Cultural experience!
That about sums up this Budapest escapade of mine.
But really, the
Széchenyi bath houses
in Budapest were the best! I felt like an idiot, because all the signage was in Hungarian, and I had no idea what was going on, but eventually we made it through the maze of locker rooms and to the pools! Then the real fun began!
There are three giant pools outside and then about twenty five inside! It was crazy, we just kept wandering and finding new beautiful pools. We were there for about three hours and still only managed to swim in six different pools. Had we not been starving, we could have easily stayed the whole day.
The giant outside pool was my favorite mostly because I liked the water fountain, the chilly air and the group of old men playing chess on a board built into the pool! Contrary to what you might think from the blue clear skies, it was FREEZING outside. The whole weekend in Budapest I was walking around bundled up in my down jacket, sweater and hat. Luckily all the water comes from underground mineral springs, so it was super warm. If you look closely in the photos you can see the mist coming off the water where the winter air meets the hot water.
The only slightly disappointing thing was that everyone was too busy relaxing to have some fun. I am used to going to the pool and playing a dozen different games with my siblings, not just floating and meditating for hours on end.. Splashing of any kind was definitely frowned upon. Which kind of takes some fun out of it all..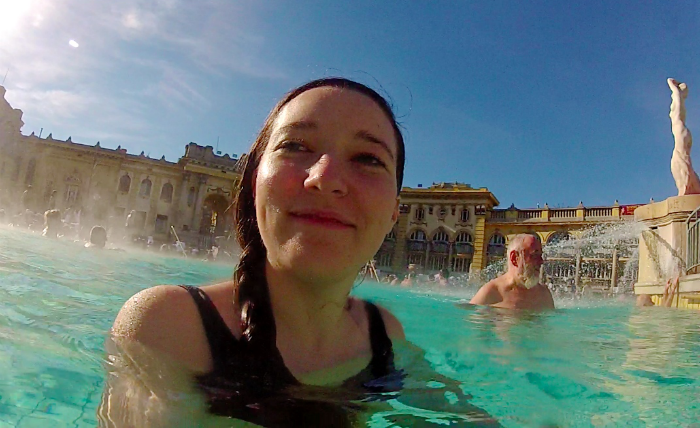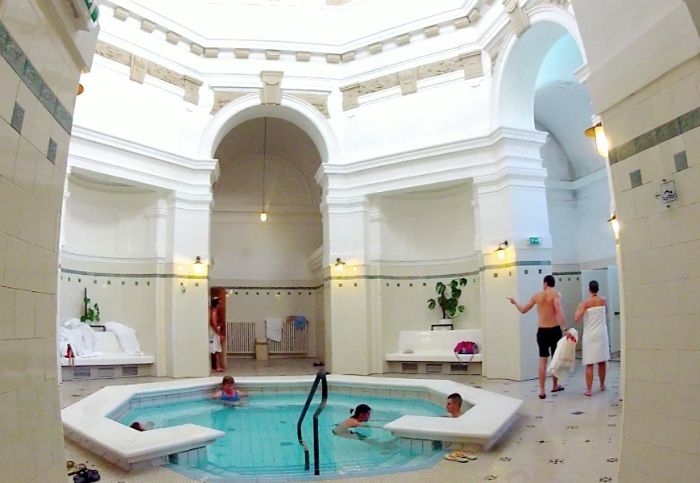 The first inside pool we were in (not pictured) was definitely the old person hangout pool! All of the pools are lined with tiled benches and people just sit and chill. It is the funniest thing to watch, we saw so many people who were legitimately asleep in the water. Not to mention the groups of old men deep in conversation with each other. Apparently if you are above the age of 60 in Budapest and want to see your friends you all meet up at the bathhouse!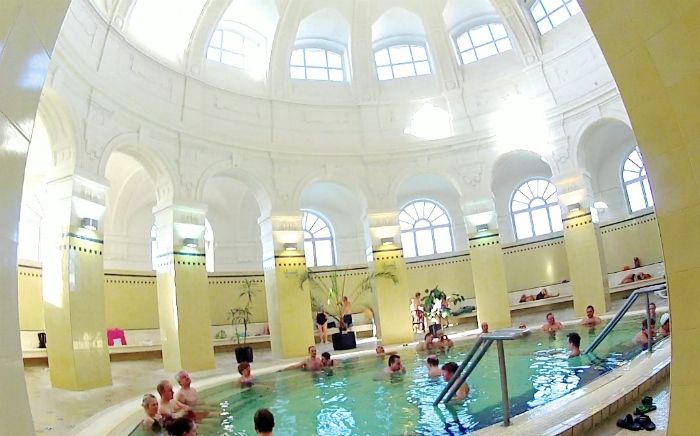 The architecture was absolutely beautiful and we had fun testing out my new GoPro (hand-me-down courtesy of Pelle, thanks bro!) I think I have to work on my underwater poses still, but I completely nailed the awkward GoPro selfie!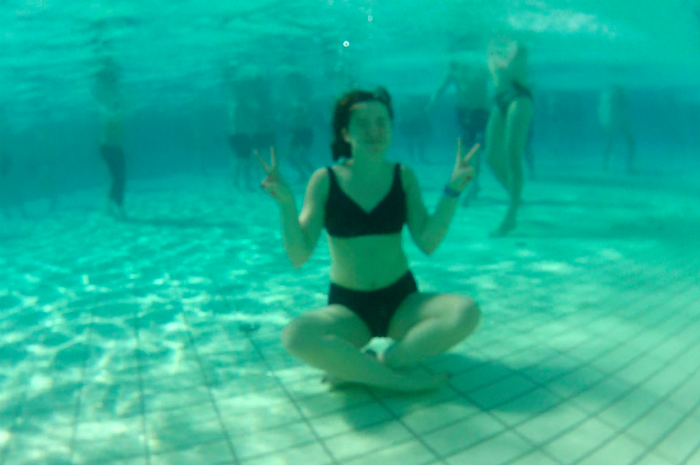 Peace out bathhouse! xoxo
More photos of my weekend in Budapest, coming soon!